In our beautiful 60-seated dining hut, "Kota" we offer authentic Lappish delicacies and neighborhood food. We rely on the power of fresh, local ingredients and traditional dishes full of taste. Reindeer meat is from our own herd, White Fish from the nearby lake and mushrooms and berries from our backyards forests. Kota is an ideal venue for all kinds of festivities, private occasions or meetings as the audiovisual technology is at your use. Kota is built with the respect of a nature and times passed and a feeling of being one with the nature is very present. Big fire place in the middle spreads lovely heat and stimulates all your senses.
We serve on request and we need reservations latest 2 days beforehand. Minimum group size for dinners is 6 persons. If you coming for a reindeer tour and would like to enjoy a lunch within, request when making the reservation.
Children 3-13 years -50% of the list price. Children under 3 y.o. free of charge. Please, pick the same menu for the whole dining group.
MENU OF THE KOTA RESTAURANT
LUNCH SOUPS
Traditional Reindeer soup
11,00€

Creamy Salmon soup
11,00€

Velvety Vegetable Soup
11,00€
Cheesy Stewed Reindeer Soup
13,00€
STARTERS
Creamy Salmon – White Fish Soup
8,00€

Warming Vegetable Soup
7,00€

Green Salad with Cold-smoked Reindeer and
Finnish Squeaky Cheese
10€

Green Salad with Blazed Salmon, herbal Yoghurt Sauce
Forest mushroom – Cold Smoked Reindeer Soup
10€
MAIN COURSES
Sauteed Reindeer, Potato mash, Vinegar cucumbers and Lingonberries
23,00€

Reindeer Fillét, Hasselback Potatoes, Honey-glazed Rosemary Carrots and Salty Liquerice -Redwine Sauce
29,00€

Reindeer Meatballs in a Creamy Brandy sauce, Pototoe mash, Vinegar Cucumbers and Lingberries
20,00€

Hot Reindeer -Vegetable – Mushroom Wok with Basmati Rice
20,00€

Blazed Salmon, Root Vegetable Pyree, Seasonal Vegetables and Herbal Yoghurt Sauce
25,00€

Veggie Steaks of the Hostess, Potatoe mash, Seasonal Vegetables and Herbal Youghurt Sauce
20,00€


DESSERTS
Finnish "Kampanisu"- bun
5,00€

Blueberry pie with Vanilla Foam
7,00€

Cloudberry Pannacotta
9,00€

Wildberry Cheesecake in a Class
9,00€

Lapland Cheese and Cloudberries in a Caramel Cream
8,00€

Chocolate Foam with Oreo cookies and Wild Rasberries
9,00€

Crepes with Cloudberry Jam and Vanilla Cream
7,00€
Cooking class at Reindeer Farm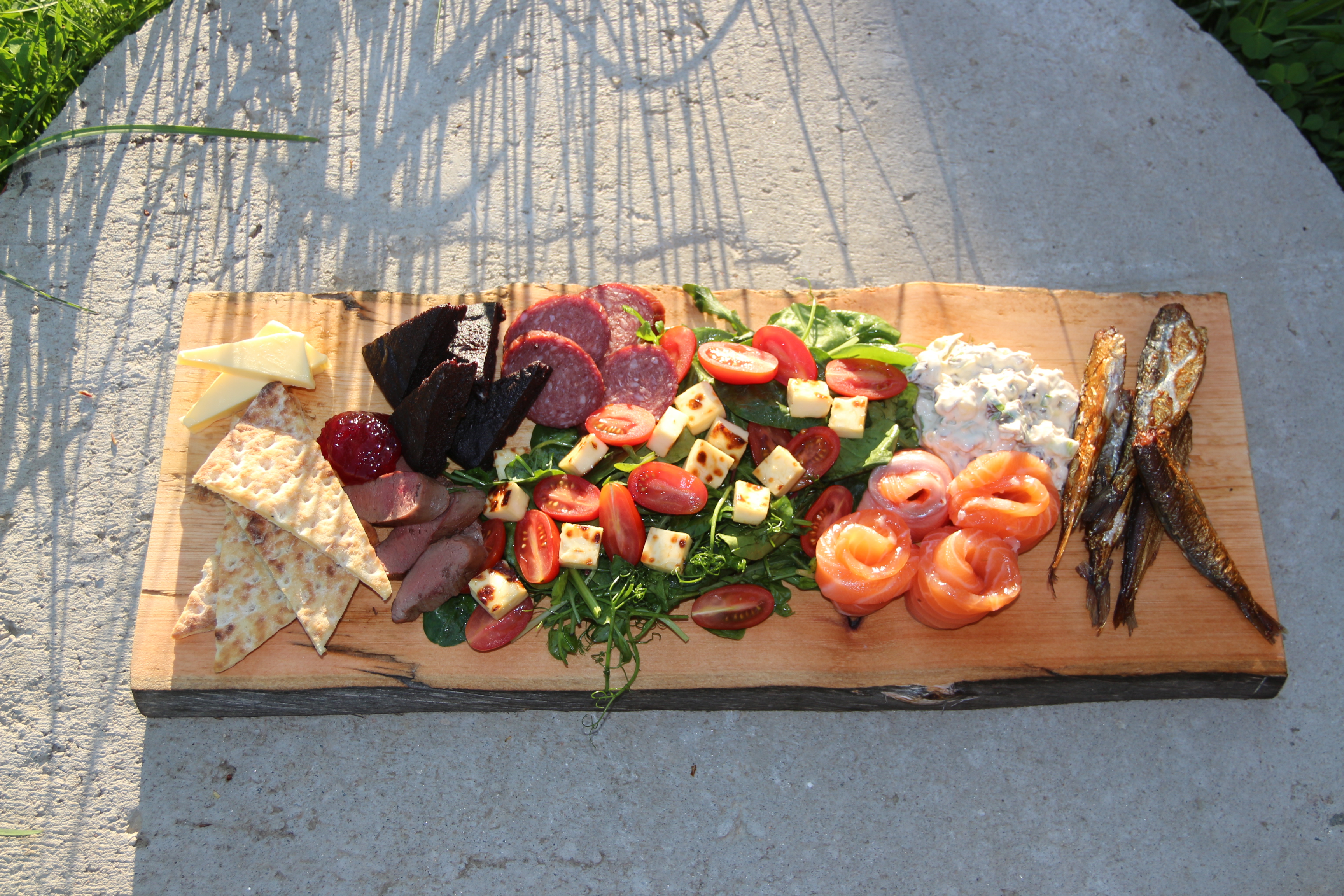 Take a visit to our reindeer farm and learn to cook Lappish delicacies with a local knowledge!
During the cooking class you will prepare a three course dinner together with us by using local ingredients as forest mushrooms, berries, local root vegetables and good quality reindeer meat from the our own herd. We will also set the tables, light the candles and finally enjoy the meal on the heat of the flaming fire. While enjoying a sweet dessert, you will hear relaxing drumming and calming Sámi joik performed by your hostess. You also receive a recipe booklet to cherish your tasty holiday moments.
Duration: about 2,5 hours
Price: 100€/person. Please, send an inquiry
Group size: From 4 persons up to 25 persons
---